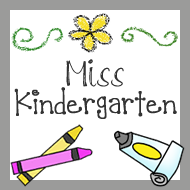 I used
Miss Kindergarten's Community Helper unit
and I LOVED IT!
I by no means take credit for the images, fonts, or ideas put into this product. Please, please, check out her site, follow her blog, and purchase her products from TpT.
It covers MANY helper jobs, and opened many great discussions with the students. I especially appreciated males and females doing the jobs, having a soldier be a community helper, as well as jobs students may forget: plumber, chef, etc.
Click on the image/her button to go to her site, click on the link to go to the specific unit.
Using her work, we discussed the many people that help our community. We also discussed how all these helpers are jobs they can have when they grow up. We took the people/community helpers and matched them to their transportation. They then placed them under, in front, behind, and over the vehicles they drive. It was pretty interesting to see some of their thoughts, such as some student put their person on the back of their paper for behind and for under. Interesting to see their perspective!
I met with the kindergarten teachers (5k) in our district and they suggest that we teach the
PROPER formation of the letters
before they get to kindergarten. (I teach 4k so I work with them to make sure I cover what they would like students coming in ready with). I have been working on this with students, but encourage parents to help them at home as well.
Almost all letters start on the top (M & N the only exception) and all circle letters (a, d, g, o, q) start at the top and do the circle first.
We practiced this at school by doing rainbow writing. I showed students proper writing of their name, with starter dots, arrows, and sometimes numbers to help with order and then they did it in all the colors of the rainbow making their name rainbow.
**** Found the correct wording on how to write the letters. Please click HERE It should bring you to a google document. When you get in the document, you can save it (download) as a PDF. You can then view, rotate counter clockwise to get a better view.****
Student typing a sight word
while his friends look on.
I wanted to start to incorporate technology for the students.

Technology is becoming more and more prominent in the students' lives. One skill important for them to learn is the location of the letters on the keys. We started this by typing the words I can print to put on our word wall and to type their names. I projected this up on the screen as the students in the class helped us to sound out some of the words.
Student typing his name, looking for
that letter "o" Can you tell? :)
We will begin to do some sign in activities where instead of finding their blue cards, we will type our names onto the lap top. I will do the best I can to incorporate more technology to get them ready for their future school years as well as the world around them.
Student wrote mv m for movie man
On Wednesday, we talked about any job they picked would make them a community helper. We then drew a picture of us working this job, and then tried to write it. We are then putting this in a class book. Students are very ambitious and they are doing well coloring (adding details) and trying to write.
The topic came up about students always being bigger than some of their siblings because they were born first (a student in our class just found out he is having a baby brother or sister soon!) I told them that I am the oldest (I was born first) but all my brothers are bigger than me. I also mentioned that I have FOUR brothers. This amazed them. I decided to draw a picture for them to help them understand.
It then turned into a description that not all families are the same and that is ok (my parents are divorced so 1 brother is my full brother, 2 brothers are my mom and step dads, and 1 is my dad and his x-wife's as well as the fact I have 2 dads)
It then led to a discussion on adding details to pictures to make things more descriptive and tell more with our picture. I explained each person's job and made their clothing match. (My dad likes blue, my step dad is a plasterer and wears stilts, my oldest brother is very tall like our dad and he also plasters with my step dad and wears stilts, the next brother is a wrestler (high school), the next a power lifter (high school), and the last is also a wrestler different team (high school). My husband is a pharmacist.
And then it moved into a discussion on medication safety as my husband is holding an orange medication bottle.
Finally, it turned into a literacy lesson when they helped me sound out my families names (initial sound at least).
Who knew my large family could teach so much! They had fun, I had fun and I keep giggling at my family photo!
The igloo is FINALLY done! We have a whole igloo! We are still collecting a few milk jugs to make a door way, but after this week we can officially say the igloo is done and no more donations are needed!
Kids are having fun playing in the igloo. I have seen everything from playing house to pretending to be polar bears. We are still working on (and could use some reminders about) treating the igloo with love. I have had to replace the front twice and the back twice as well.
** I am not sure if I didn't use enough glue or my kids are just unusually rough with our igloo. Though it is adorable, the kids love, the parents love, and even the tours coming into our school love it, it is a big pain in my butt. I think I spend 20 minutes a night re-hot gluing the darn things back together! Thought it is fun, I cannot say how long it will be up. I dont plan on doing any more repairs and once it is down, it is down.
**plans for next year to modify:
1. Use a base as the original sight suggests. I have noticed a big problem with the thing falling apart is their pushing the sides out further and further until a side breaks.
2. More glue
3. More rules?